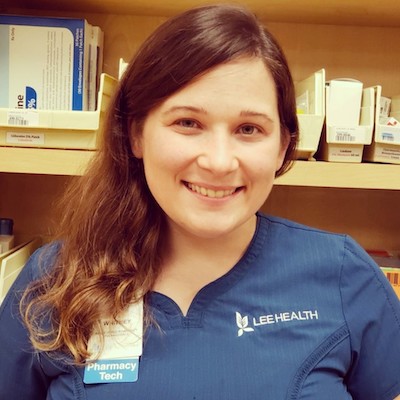 The roles of pharmacy technicians have been expanding exponentially since I started in my career in 2009.
PTCB's new credentials for pharmacy technicians hold technician's advanced roles to a higher standard while empowering technicians to assume new positions. Advanced credentials allow pharmacy technicians to demonstrate their level of competency while showing their importance to pharmacies.
The roles of pharmacy technicians have been expanding exponentially since I started in my career in 2009. I have worked in retail, outpatient, and hospital settings, and observed how pharmacy technician roles progressed. I am licensed by the Florida Board of Pharmacy and have been PTCB-Certified since 2010. Once pharmacy technicians were required to be licensed in the state of Florida in 2009, many workplaces in the state began requiring technicians to be certified by PTCB.
In 2012, the Lee Health hospital system added a pharmacy technician supervisor position, and the technician role of double checking another technician's work when it's not patient specific. Technicians became responsible for preparing and managing all controlled substances and narcotics in 2013 as a way to take some of the burden off pharmacists. In 2014, technicians were able to serve on Program Project Management Initiative (PPMI) committees to help improve policies and procedures.
I worked at a Florida Cancer Specialist Outpatient Center compounding chemotherapy medications in 2016. Technicians there carried a lot of weight and were responsible for making sure all medications were double checked by another technician or nurse. Technicians verified that drugs were ordered and calculated correctly for next day patient therapies under the supervision of the charge nurse.
In 2018, I worked at a smaller hospital in Lake Wales where expectations for technicians were really high due to the small staff size. We were required to read and understand controlled substances and narcotic discrepancy reports within pyxis machines. We had to double check TPN bag dosages following the pharmacist, and run weekly reports in pyxis to manage medications that should be added or taken away from machines to ensure all were available for floor nurses.
I've been responsible for the medication history of patients in both retail and inpatient settings. In the inpatient setting, technicians relieved pharmacists of the responsibility of inspecting nursing units.
Working in the pharmacy setting is not for everyone. We need dedicated and detail oriented people with passion for this evolving field. When technicians advance their training by earning new credentials, they allow pharmacists to perform their jobs on a more clinical level, and this optimizes patient satisfaction and outcomes.