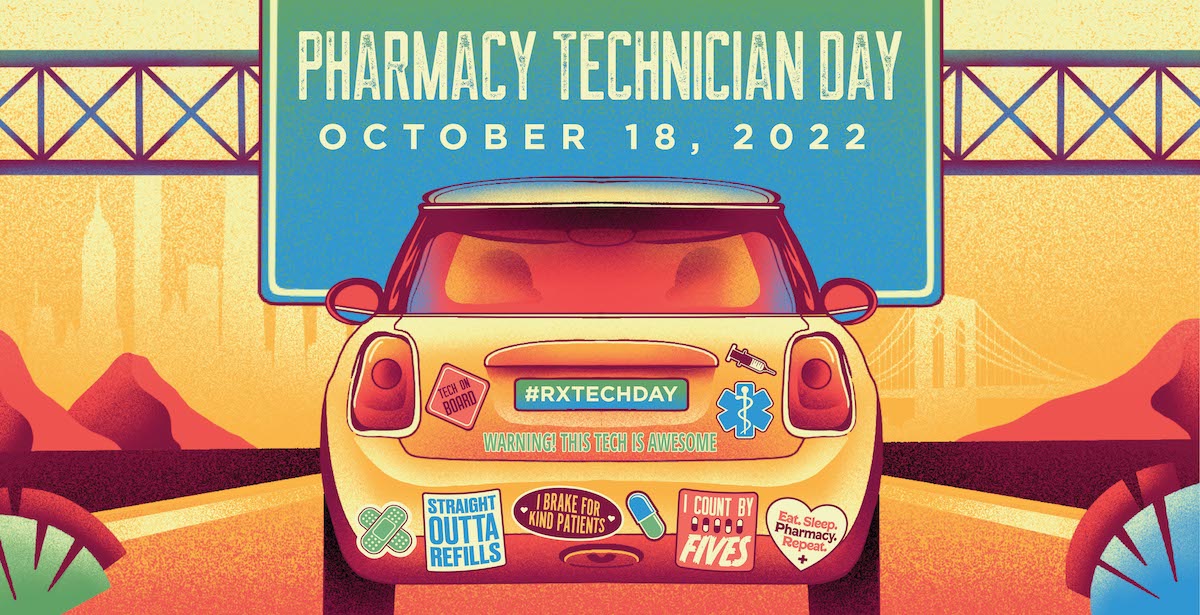 Pharmacy Technician Day is Tuesday, October 18, 2022
Each year the pharmacy community takes a day to especially celebrate the pharmacy technician. We encourage employers, educators, organizations and the public to find ways to appreciate the important work technicians do every day.
Download Graphics and Badges to Share:

Graphics are available for your social media and website, and badges/stickers for your pharmacy team to wear.

View and download graphics.

Join the #RxTechDay Twitter Chat:

Participate in the international #RxTechDay Twitter Chat on October 18. We want to hear from you! Follow @PTCB and the hashtag #RxTechDay to answer our questions. This Twitter chat will be hosted by organizations around the world!

Get Social:

Tag your social media posts with #RxTechDay. Engage with other pharmacy technicians and see how they're celebrating around the world. Be sure to follow PTCB on social media and look out for upcoming giveaways!
Attend the Facebook Event:

View the Pharmacy Technician Day Facebook event, mark yourself as 'Going' and share with your friends.

Submit Photos, Videos and Stories

Let's highlight the role of pharmacy technicians! Tell us how you're staying #CPhTStrong during this time. Submit photos, stories and videos from you and your pharmacy team. We will feature selected content on our website and social media.
From October 1 to October 31, PTCB is offering a 20% discount in the PTCB Store. Take advantage of this sale to purchase items for yourself and your pharmacy team.

Other Ways to Celebrate:
Join Associations: Urge your pharmacy to purchase memberships in national and state pharmacy associations for technicians this month.

Decorate Your Pharmacy: Let everyone know it's Pharmacy Technician Day.

Host Lunch: Serve a special lunch event for pharmacy technicians and team members.

Bring Treats: Who doesn't love a little something sweet to make their day brighter?

Make Public Announcements: Throughout the day, announce on your speaker system the special day of celebration and specific names and achievements of technicians on your team.