July 18, 2023
Washington, D.C. – In an effort to help employers empower pharmacy technicians to serve their patient community more equitably and feel supported in their workplace, the Pharmacy Technician Certification Board (PTCB) has conducted a first-of-its-kind survey on diversity, equity, and inclusion of over 9,000 Certified Pharmacy Technicians (CPhTs). This survey establishes a baseline of data from pharmacy technicians across pharmacy practice settings to help employers gauge how inclusive technicians think their workplace is and identify areas to better prepare technicians to serve diverse patients.
"At PTCB, we believe that addressing inequities is essential to our mission to advance patient safety," said PTCB Executive Director and CEO William Schimmel. "We want technicians to have the right tools and training to confidently meet all of their patients' needs and ensure that they feel a sense of belonging in the workplace."
Survey respondents provided demographic information including age, gender, ethnicity, sexual orientation, veteran status, and disability or diverseability.
More than half of the respondents agreed or strongly agreed that DEI is important for the workplace, but the survey also shows pharmacy technicians say there is room for improvement.
Other findings include the following:
Respondents who identified as non-binary/third gender, disabled, LGBTQIA+, and Black noted more microaggressions in the workplace.
More respondents from marginalized groups, e.g., not heterosexual, white, cis men, felt that DEI is important to the future of the pharmacy where they work and to healthcare in the United States. DEI was more important to respondents in urban areas compared to suburban and rural.
Survey respondents working in an urban or suburban population were more likely to receive DEI training than their rural counterparts.
"By establishing this baseline, we can help employers find gaps in their DEI efforts and address them," said Schimmel.
Learn more about PTCB's Commitment to DEI.

Survey Methodology

PTCB fielded an online survey to 289,037 pharmacy technicians, with 9,110 certified pharmacy technician respondents in April 2023. Respondents represented a cross-section of the pharmacy technician workforce, including technicians across the country, working in various pharmacy practice settings.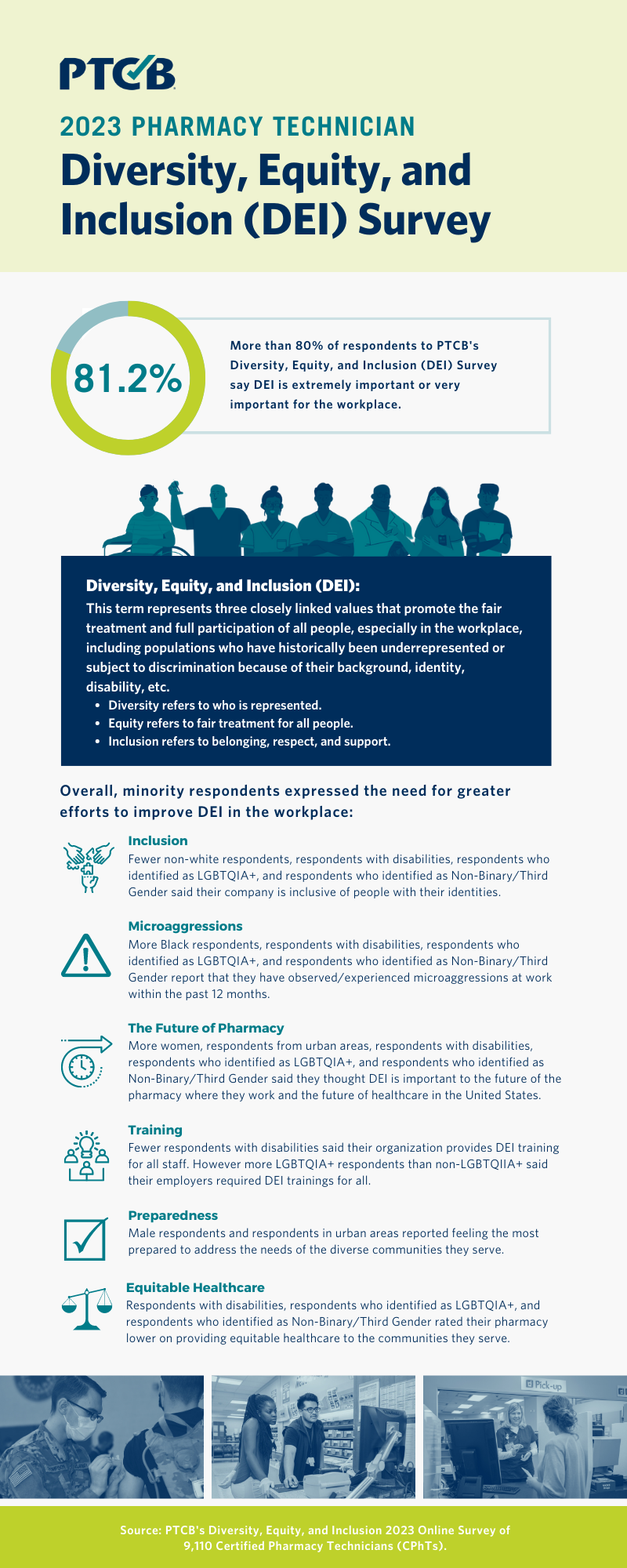 ---
To obtain information, schedule an interview, or request a comment, contact mediarelations@ptcb.org.