November 8, 2018
Our new identity conveys our core values
We have witnessed remarkable change during the past 20-plus years since PTCB was founded, both in pharmacy and in our own organization. It's beyond time for us to create a new brand identity that reflects who we are now while honoring where we have come from.
A new look
We sharpened and simplified our identity with a fresh look. Our new brand is an updated reflection of who we are today and our steadfast commitment to excellence in medication safety.
Our new PTCB logo is crisp and modern while honoring and continuing the shape of our previous logo. We added a check mark icon to represent reliability, safety, and adherence to our standards. PTCB's new color palette includes dark blue and teal, with secondary use of lime green, fuschia, and other shades. Vibrant new colors highlight our programs. And we are introducing our first-ever Official CPhT and CSPT logos, representing the important credentials we offer to pharmacy technicians.
Rollout
A gradual rollout of our new brand launches in November 2018. As time passes, you will see more of our new brand, and gradually see less of the previous one.
Are you still seeing the previous PTCB logo around? Not to worry. We still accept our old logo as an Official PTCB logo during the rollout phase of the new brand. Certificates, wallet cards and other materials with the previous PTCB logo will continue to be recognized materials.
Values
Our new brand is meant to reflect PTCB's core values. The values represent what we stand for and why we exist. They are the foundation of our brand principles, positioning, storytelling, and strategy:
Transparency

Accountability

Collaboration

Trust

Innovation
PTCB's Brand Identity Standards & Guidelines
PTCB's Brand Identity Standards & Guidelines document is a toolkit of the organization's identity suite (logos), color palettes, and typefaces that are associated with the PTCB brand.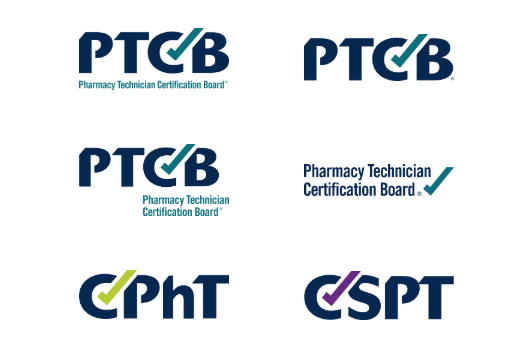 Who We Are
PTCB is proud to be the nation's leading pharmacy technician certifying body and the first and only nationally-recognized pharmacy technician certification program. We hold patient safety paramount through rigorous programs to certify technicians who are qualified to support pharmacists and patient care teams in all practice settings.
While PTCB is not a membership association, we strive to be an accessible and reliable partner, working together with pharmacy technicians to help them achieve their career goals. Our updated brand identity marks a new chapter in our story as we embark on expanded outreach to those we serve.
PTCB was founded in 1995, and since then we have transitioned to an increasingly dynamic organization offering two certification programs and serving more than 285,000 active PTCB Certified Pharmacy Technicians (CPhTs) and many thousands within our stakeholder organizations and the pharmacy community.