Continuing education (CE) is essential for CPhTs and CSPTs to stay up to date on the latest in pharmacy practice, expand their knowledge, and advance their professional growth. Updating and expanding your knowledge through CE courses and activities helps you advance medication safety in your workplace and contributes to quality patient care.
PTCB requires CPhTs to complete CE to be eligible to renew and maintain the active status of their CPhT and CSPT Certifications. Learn more about CE requirements: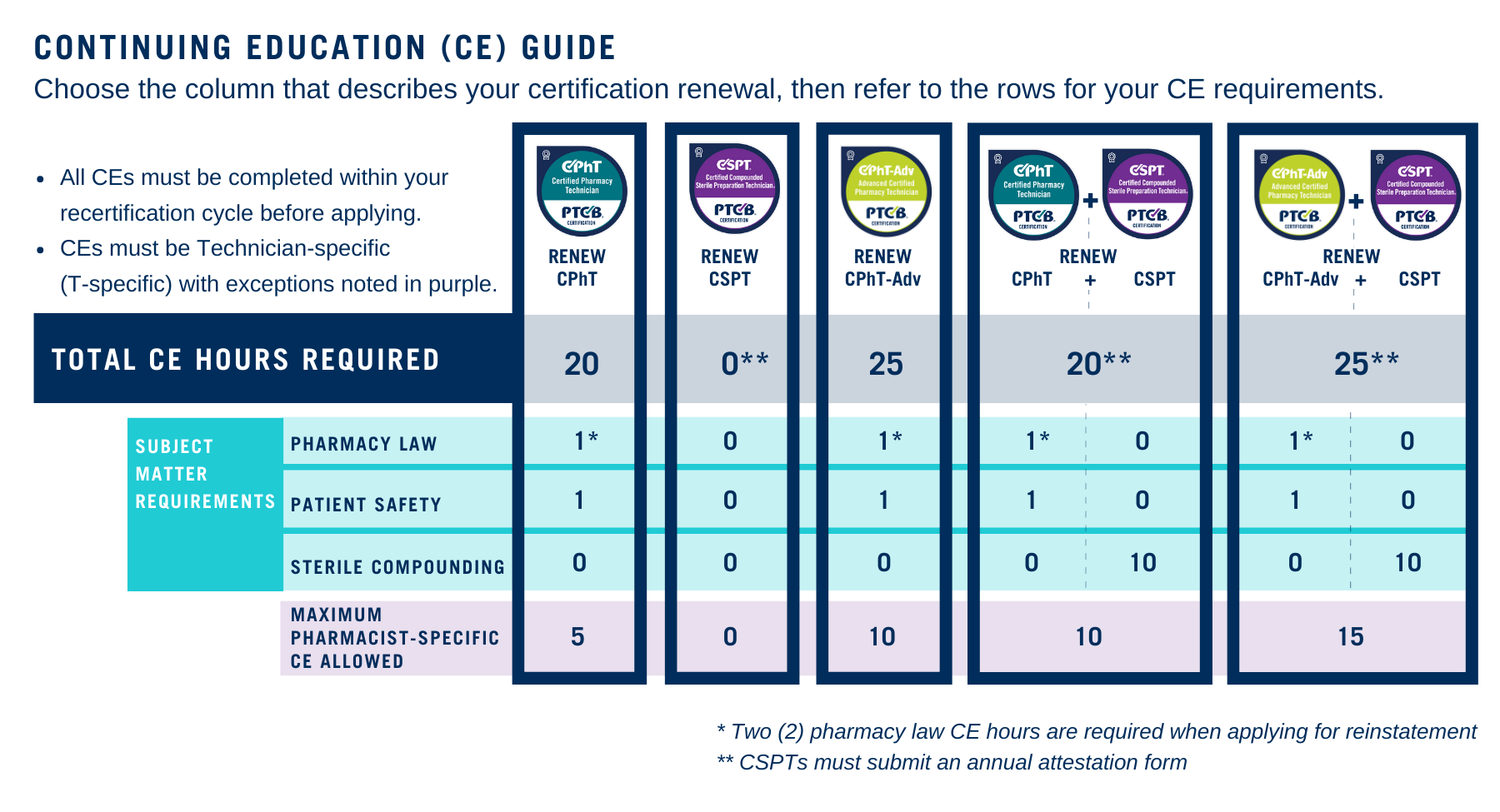 Entering CE Hours
CPhTs can track their continuing education (CE) hours with CPE Monitor, a service of the National Association of Boards of Pharmacy (NABP). CPhTs must have an NABP e-Profile ID on file with PTCB before they recertify. Applicants can create an e-profile ID at nabp.pharmacy.
Applicants earning CE hours from nonaccredited CE providers must manually enter these CE hours and upload documentation of CE completion to their PTCB application.
Find CE Programs and Courses
PTCB accepts CE in pharmacy technician subject matter as outlined in the Pharmacy Technician Certification Examination® (PTCE®) Content Outline or offered by Accreditation Council of Pharmacy Education (ACPE)-accredited providers with the target audience designation 'T' (technician-specific).
Beginning with renewal applications received after September 1, 2020, we accept a maximum of five (5) CE course hours from ACPE-accredited providers with the target audience designation 'P' (pharmacist-specific) if the subject matter is contained within the PTCE Content Outline.
PTCB's CE Directory allows technicians to quickly find free CE programs and complete CE more easily. All CE programs listed in the directory are ACPE-accredited and free of charge. CE providers can visit the directory page to submit their free programs to be added to the directory.
Example CE Providers*
American Association of Pharmacy Technicians
American College of Apothecaries
American Pharmacists Association
American Society of Health-System Pharmacists
Illinois Council of Health-System Pharmacists
Michigan Pharmacists Association Online CE
Michigan Pharmacists Association Technician Membership
National Pharmacy Technician Association
*PTCB does not recommend or endorse specific educational or CE courses or materials for pharmacy technicians; however, PTCB does share examples of CE providers for informational purposes only. Resources shared are in no way authored, supported, sponsored, owned, or endorsed by PTCB.