Advocacy Through Strategic Alliances
Employer and Educator Programs: Collaborating To Advance Patient Safety
Employer Program
Pharmacy technician employers who are committed to cultivating a qualified technician workforce and those looking for resources to share with their employees continued to join the ranks of the PTCB Employer Program in 2016. Employers who participate become part of a collaborative community. During the year, the program focused on methods for collecting employer input and direction for future program enhancements. In 2016, Employer Program participants were able to order the newly-released Official PTCB Practice Tools at bulk discount prices. Employers also received the Employer Outlook newsletter, program welcome kit, 'We Proudly Employ PTCB Certified' Technicians Employer Poster, and the opportunity to save time and expense by becoming a sponsor of their employees' certifications or recertifications. Many employers joined to gain access to complimentary bulk verification of pharmacy technician employees' certifications. New program participants receive recognition on PTCB's website, including company logo, in PTCB's newsletter, and on social media.
Advocate Employers

---
Educator Program
During 2016, the PTCB Educator Program continued to grow. The program serves educators of pharmacy technicians who seek to offer the highest quality instruction to technician students to prepare them for employment in today's transitioning health care system. Educators participating in the program during the year were able to access on-demand reports on their programs' PTCE outcomes, and enjoyed bulk discounts on the newly-released PTCB Practice Tools. They received the Educator Outlook newsletter, welcome kit, PTCB Educator poster, and the opportunity to save time and expense by becoming a sponsor of their students' certifications. Newly enrolled institutions received recognition on PTCB's website and in PTCB's communications.
Advocate Educators

---
Sponsorship Options for Employers and Educators
Sponsorship is a simple way for employers and educators to pay for pharmacy technicians to earn or renew PTCB Certification. To become a sponsor, employers and educators must first enroll in PTCB's complimentary Employer Program or Educator Program. Becoming a sponsor is cost-free. Sponsors enjoy a streamlined process for identifying eligible candidates, and save time and money. The total number of sponsors has steadily increased since 2013, and continued to do so in 2016.
Sponsors

(Total Educators and Employers Who Sponsor)
PTCB Welcomes One-Year Executive Resident Deeb Eid, PharmD, RPh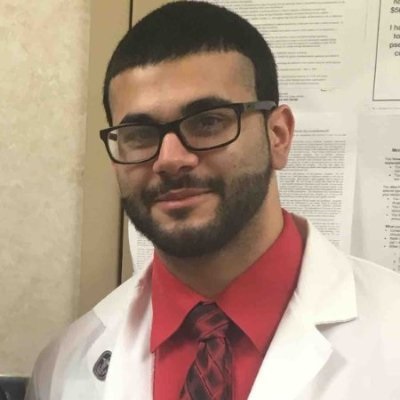 PTCB welcomed Deeb Eid, PharmD, RPh, to our staff on June 29 as Executive Resident. Dr. Eid helped advance PTCB's State Associate Program, and Advocate Educator and Employer Programs, assisted with PTCB relations with State Boards of Pharmacy, gave presentations on behalf of PTCB, and met with stakeholders while supporting the work of each PTCB department. "Being part of PTCB has given me a chance to see pharmacy from a new perspective, and realize how important it is to continue to push the profession forward," he said. "I hope this well-rounded opportunity will help me to be a leader in future initiatives for the profession."
Pharmacy Technician Roles Advance
Pharmacy technicians are employed in community pharmacies, hospitals, long-term care facilities, clinics, the military, physicians' offices, home health care, and other practice settings. Their responsibilities include entering prescription orders, operating dispensing systems, preparing IV admixtures, and maintaining inventories. They help manage medication therapy, immunization and clinical testing, financial assistance, transitions of care, and medication reconciliation. Pharmacy technicians are increasingly involved in advocacy, and 10 State Boards of Pharmacy currently include a technician member.
Emerging Roles
Sterile compounding
Medication reconciliation
Medication therapy management
Immunization
Indigent care prescription program administration
Clinical support roles (chronic care, appointment scheduling, medication adherence, smoking cessation, vital signs measurements, data management)
Tech-check-tech or final product verification
Point of care testing
Education
Prescription clarification
Quality assurance and improvement initiatives
Community outreach
Informatics
Telepharmacy
Non-sterile compounding
Refill counseling screening
Board of Pharmacy membership
Investigational drugs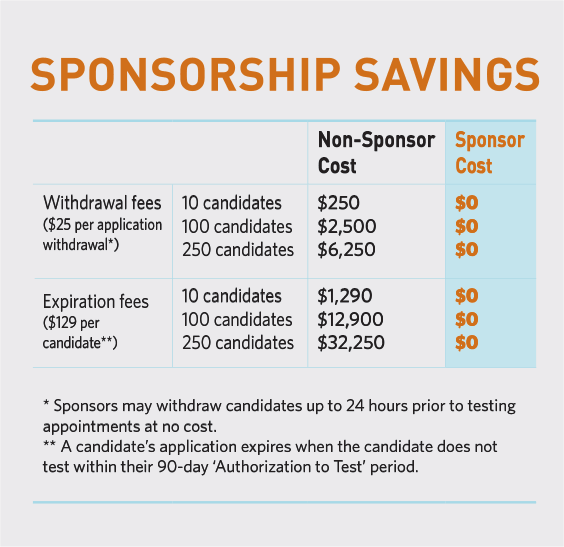 "The ease and efficiency of the PTCB sponsorship portal, allowing the college to pay for the PTCB Certification exams for our students, is a wonderful feature of the educator program. Sponsorship allows us to reinforce the importance of national PTCB Certification to our newly-graduating students by making it convenient for them to register for the exam."
"The PTCB Sponsorship program has been invaluable to our organization. It has simplified the process for managing and tracking our technicians' certification testing and status. Being able to pay PTCB directly instead of having to reimburse each individual employee has made the entire process much easier."
"We're proud to promote employee education and support professional advancement. PTCB's Employer Sponsorship helps us save time and stay organized, while helping our team achieve important certifications to grow their careers."
PTCB Collaborates
Collaborating with State Boards
PTCB attended more than 22 State Board of Pharmacy meetings during the year to provide an overview of pharmacy technician advancements in roles and responsibilities, PTCB updates, and information about the Pharmacy Technician Stakeholder Consensus Conference planned for February 2017. In addition, PTCB participated as an invited guest in State Board work groups, task forces, and strategic planning meetings focused on pharmacy technician registration, licensure, and roles/responsibilities.
Collaborating with State Pharmacy Associations
PTCB continually collaborates with state health-system and community pharmacy associations to share information about our Certification Program with pharmacists, pharmacy technicians, educators, legislators, and the public, and inform them of the value of the program in advancing patient safety. PTCB encourages CPhTs to become active in state associations to help strengthen the voice for technicians. Through our State Associate Program, PTCB partners with 72 state-level associations in 46 states.
In 2016, PTCB distributed a survey to our State Associates to collect input on program structure and ask for recommendations on enhancements. Representatives from 18 pharmacy associations joined by thought leaders from health-systems met in Alexandria, VA on September 27 to review the overall survey results and develop recommendations to improve the program. Representatives participated in small breakout discussions. Future program enhancements are under development.
2016 PTCB Meetings with State Boards of Pharmacy
| | |
| --- | --- |
| February: | California |
| March | California |
| April: | Idaho, Hawaii, District of Columbia, Oregon, California, Texas |
| June: | Texas, Virginia, Missouri |
| August: | Missouri, Iowa, Wyoming |
| September: | Missouri |
| November: | Indiana, Utah, Oregon, District of Columbia |
| December: | Montana, West Virginia, Maryland |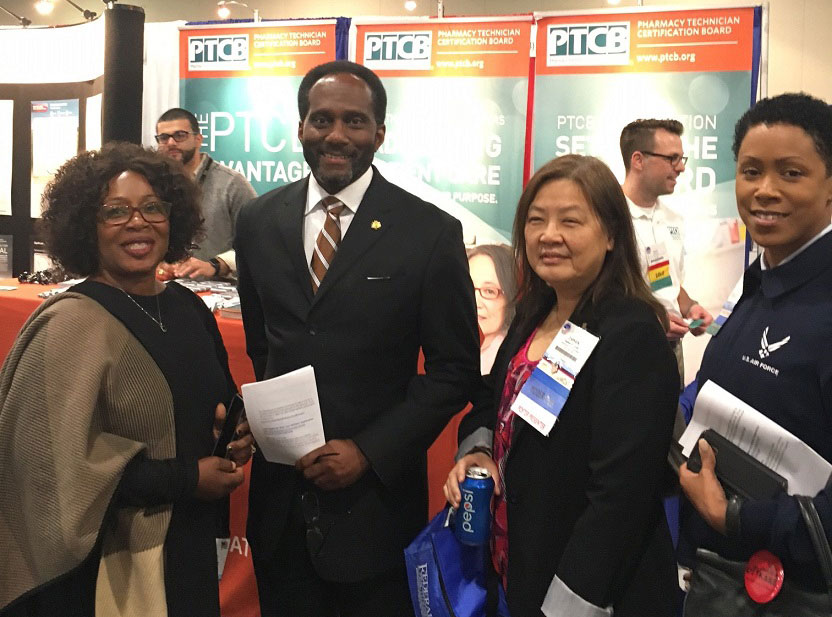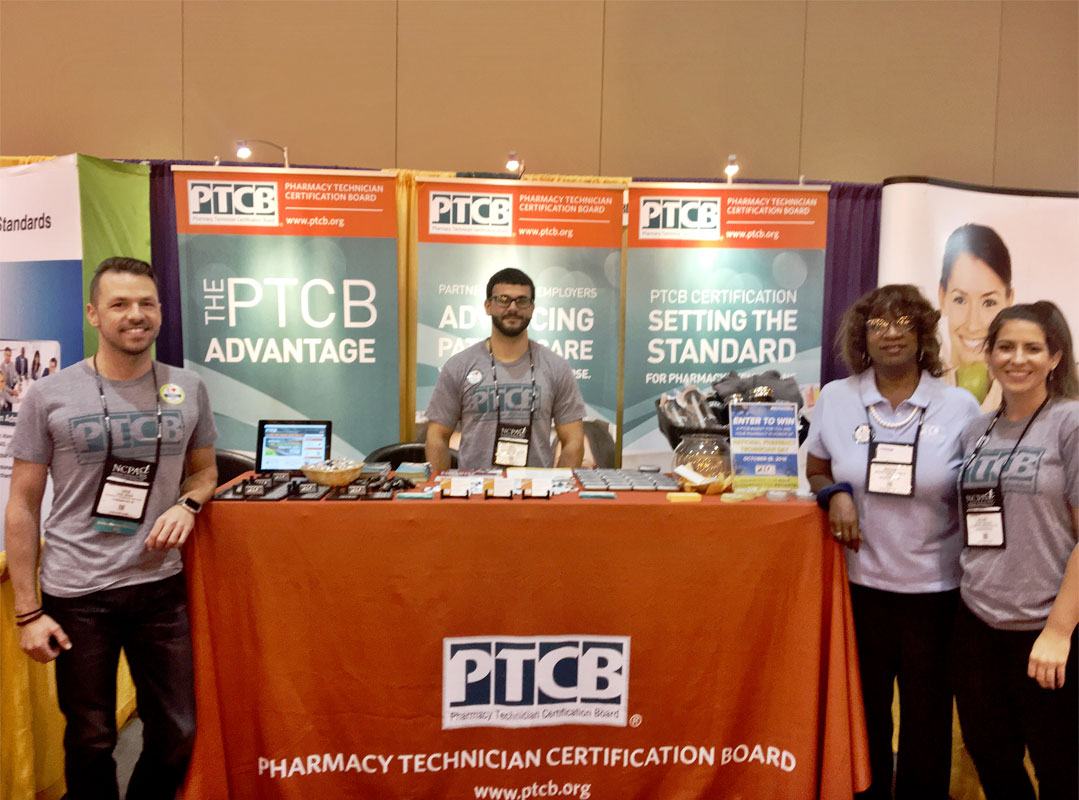 Collaborating on the Road
During the year, PTCB participated in 57 pharmacy organization meetings or conferences in more than 30 states as a presenter, exhibitor, and facilitator.
In August, PTCB participated in the International Pharmaceutical Federation (FIP) World Congress in Buenos Aires, Argentina.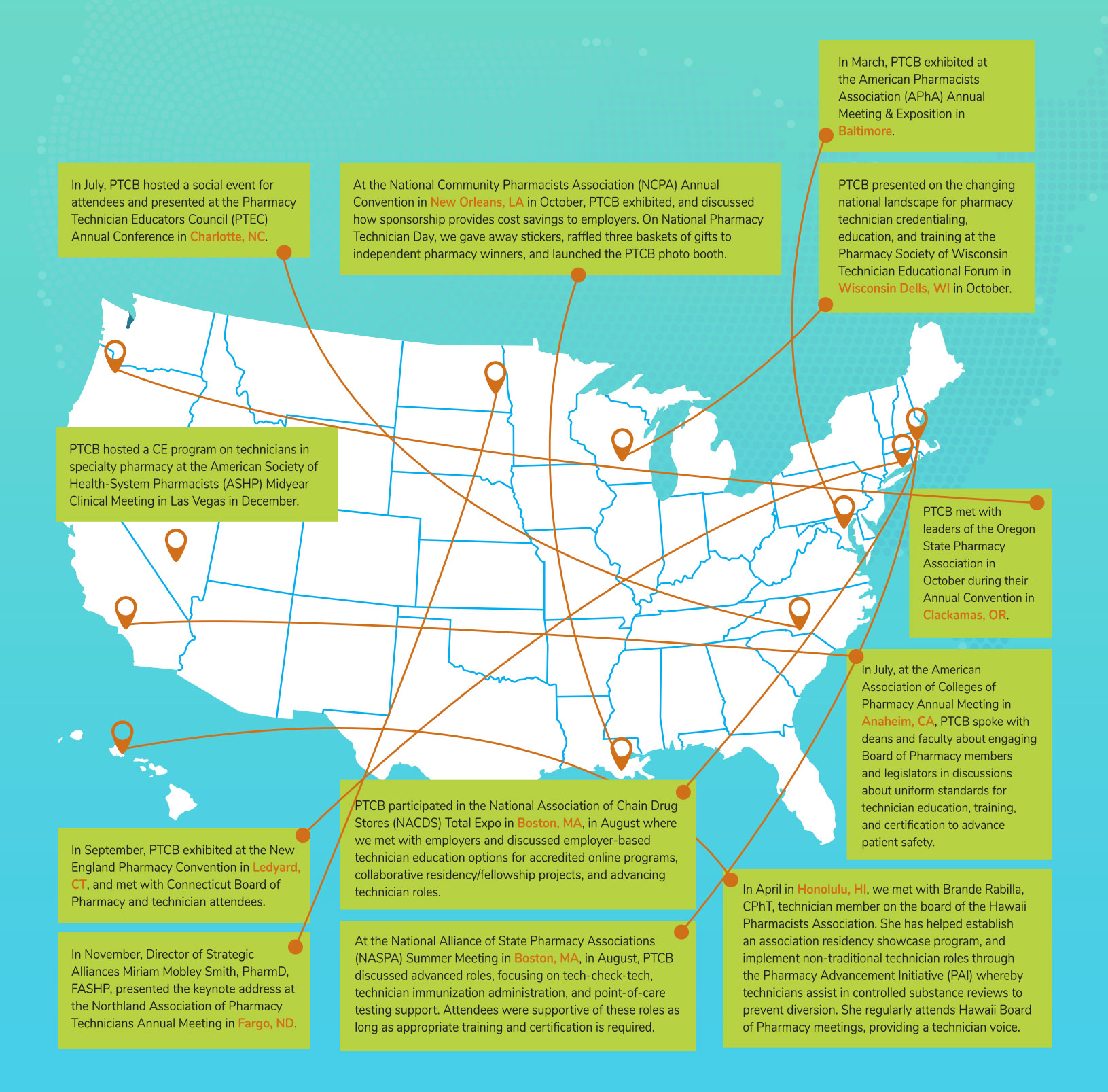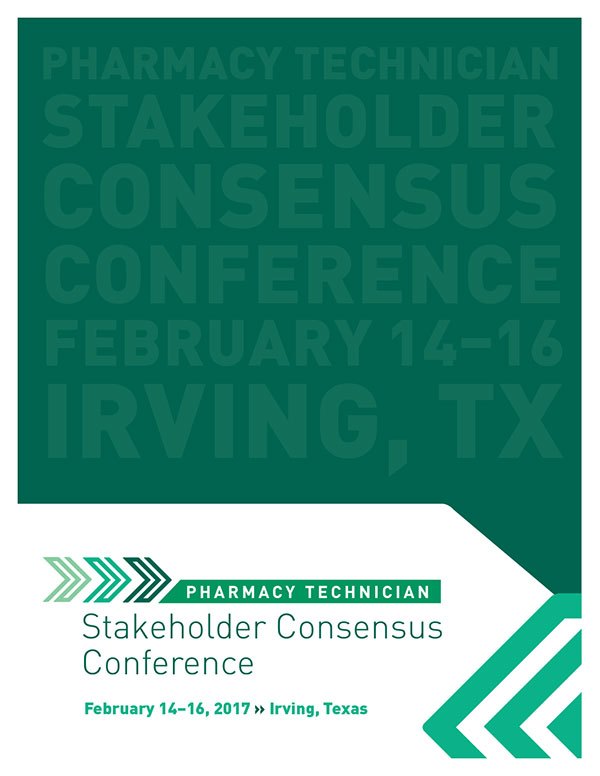 Collaborating for Consensus
During 2016, PTCB collaborated with organizations to help plan an invitational February 2017 conference for pharmacy leaders and stakeholders to examine entry-level standards and future roles for pharmacy technicians.
The Pharmacy Technician Stakeholder Consensus Conference (PTSCC) was designed to bring together stakeholders from across the practice spectrum to recommend how to best ensure technicians are prepared to perform work in a safe and effective manner. A PTSCC Advisory Committee met during the year, comprised of representatives from technician training, including community and health-system-based training programs, national pharmacy organizations, and State Boards of Pharmacy. The committee prepared the agenda to focus on:
the necessity of public confidence in the process for ensuring technician competency;
entry-level knowledge and abilities needed by all technicians;
a legally recognized scope of practice;
education, training, and certification requirements; and
methods to recognize competencies beyond entry-level.
At press time, proceedings and recommendations were expected to be submitted for publication in mid-2017.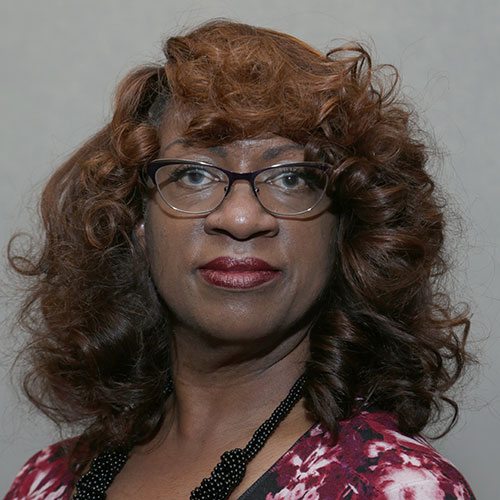 Miriam Mobley Smith, PharmD, FASHP, Joins PTCB To Head Strategic Alliances
On February 1, PTCB welcomed Miriam Mobley Smith, PharmD, FASHP, as our Director of Strategic Alliances responsible for managing public and private strategic alliances, building organizational relationships, and leading the organization in advancing the PTCB Program as the single national standard for pharmacy technician certification.

"Throughout 2016, the Strategic Alliances team enjoyed interacting with many PTCB stakeholders from across the country that represented various pharmacy practice sectors. Through meeting attendance, workgroup and task force participation, presentations and activities, PTCB continued to seek effective ways to support the profession in successfully elevating pharmacy practice models and advancing patient safety initiatives."
–Miriam Mobley Smith, PharmD, FASHP
State Regulatory Activity
Idaho
In 2016, Idaho adopted new rules that expand the roles of CPhTs and allow them to perform new duties, including administer vaccinations when a CPhT meets specific education and training standards and is CPR-trained. The rules in effect in March 2017, also allow technicians to: conduct accuracy checking, or product verification, in all practice settings; communicate prescription drug order transfers; remotely perform data entry of prescriptions; clarify information with prescribers; and receive access to the online Prescription Monitoring Program (PMP) used by professionals to track controlled substance fill history. The rules also include a form of 'tech-check-tech' whereby CPhTs may perform final verification of product fills by other technicians, student pharmacists, or automation (robots or automated filling machines). CPhTs are allowed to receive new prescription orders verbally and transcribe them onto paper under certain circumstances.
Photo above: PTCB Executive Resident Deeb Eid, PharmD, and Idaho State Board Executive Director Alex Adams, PharmD.
"Other states have allowed certified technicians to receive verbal prescriptions, transfer prescriptions, perform tech-check-check on uncomplicated refills after a pharmacist drug utilization review, and perform remote data entry. We reviewed the outcomes in these states … and the evidence is pretty clear that these tasks can be delegated to free up pharmacists for more patient care roles."
Alex J. Adams, PharmD, MPH, Executive Director, Idaho Board of Pharmacy
Iowa
Iowa's New Practice Model Community Pharmacy Technician Verification Research Program, authorized by the Iowa Board of Pharmacy, involves a pilot program and ongoing research to study and evaluate advanced roles for pharmacy technicians in the community setting. Under the New Practice Model, the pharmacist oversees all activities while technicians check products knowing support is nearby if there is a question. Eleven studies have been done since 1978 in which technicians verify the accuracy of other technicians. The model further frees pharmacist's time for advanced clinical services. Participating technicians must have completed formal advanced training education, passed an audit, and be nationally certified. The Practice Model's purpose is to help prioritize time so that patients who need help do not leave the pharmacy without it.
North Dakota
In 2016, a new rule was proposed and progressed toward approval in North Dakota to allow pharmacy technicians to assess a patient receiving a refilled prescription on the need of the patient or their agent to consult with the pharmacist or pharmacy intern about the prescription.
Nebraska
In anticipation of a new law taking effect January 1, 2016, PTCB worked with Pearson VUE to authorize 11 new test locations in Nebraska for the PTCE. PTCB had disseminated a brochure in December 2015 to all Nebraska pharmacists and not-yet-certified pharmacy technicians providing information about PTCB Certification as the new law went into effect. The new law requires pharmacy technicians employed by a Nebraska health care facility to register with the state's Pharmacy Technician Registry. Technicians already registered on January 1, 2016 were required to become certified by January 1, 2017. Any pharmacy technician registered after January 1, 2016 is allowed 1 year from registration to become certified. Their certification must be state or national and approved by the State Board. Once certified, technicians maintain their certification while registered.