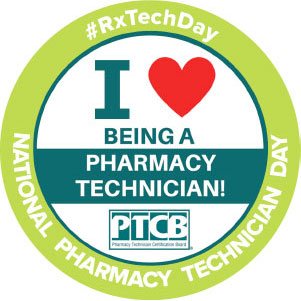 Community Engagement and Outreach
National Pharmacy Technician Day October 18, 2016 #RxTechDay
In honor of National Pharmacy Technician Day on October 18, PTCB Executive Director and CEO Everett B. McAllister, MPA, RPh, shared an executive message with more than 280,000 CPhTs, commending them for their commitment to the occupation and to certification, noting that PTCB's recent public perception survey shows consumers focus on safety for their families and expect technicians who help prepare their medications to have the right credentials.
To recognize the day, PTCB invited pharmacy teams to join the PTCB photo gallery by submitting their photos throughout October. This yielded more than 175 submissions on PTCB's social media pages, and an additional 250 team images were separately tagged #RxTechDay on Instagram. While exhibiting at the National Community Pharmacists Association annual meeting on October 18, PTCB launched a new Technician Day photo booth, adding 39 new themed images to PTCB's National Pharmacy Technician Day gallery. PTCB created badges, signs, and graphics available for download, and pharmacy teams across the US proudly wore or displayed them in pharmacies and online. In addition, pharmacy organizations collaborated to compile a set of technician discount offers during October.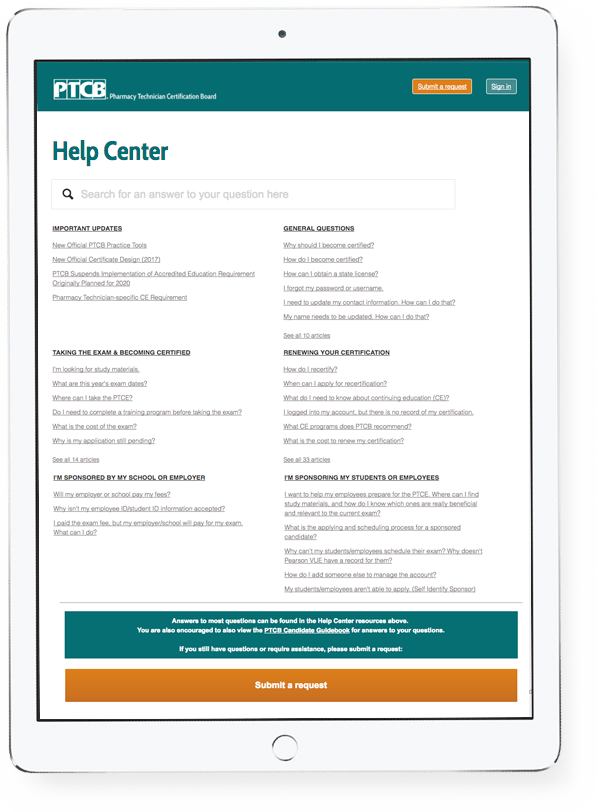 ​PTCB Launches New Help Center
In June, PTCB launched our new Help Center designed to help customers quickly find answers to all their questions. The Help Center features a searchable home page where visitors browse topics and commonly-asked questions/answers to find the information they need. They may instantly submit a question online if they choose. As a result, people are obtaining answers much faster than if they placed a phone call. Our new Help Center is part of PTCB's continued effort to ensure customers have all the information they need whenever they need it, at any time of day or night. Explore the Help Center at ptcb.org/help.
Our new Help Center is part of PTCB's continued effort to ensure customers have all the information they need whenever they need it, at any time of day or night.
Your Patients Care About Technician Certification
PTCB's newest advertising campaign is based around the results of our 2016 public perception survey. The findings revealed that consumers value certification and would seek out a pharmacy where it is required. The survey reports that 85% of the public believes it is very important for pharmacy technicians to be certified.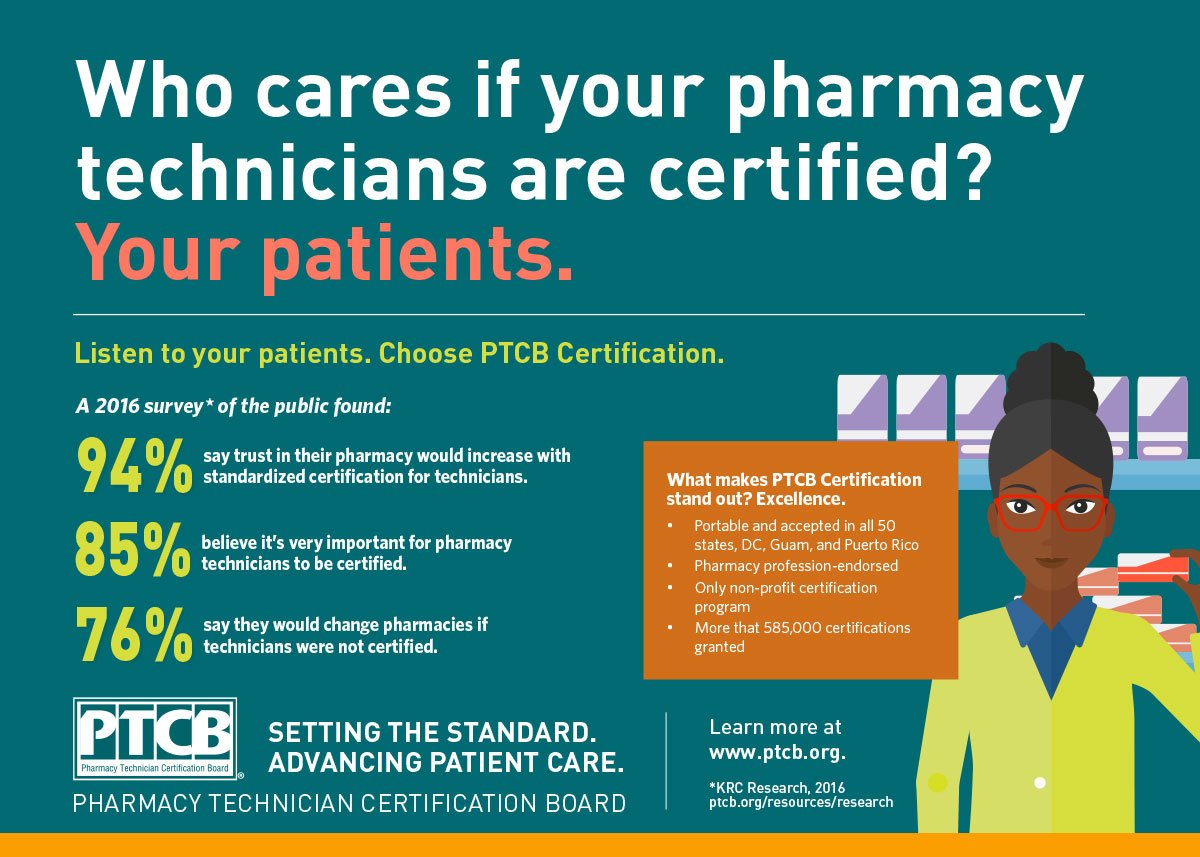 PTCB Materials and Graphics
Free materials available for download
In 2016, we made available for download our new PTCB promotional materials, including online and print advertisements and web banners, plus brochures, flyers, and more. Organizations interested in advancing medication safety can view, download, save, and then publish and share these advertisements.

PTCB Communicates:
During the year, PTCB ...
reached our audiences, stakeholders, including CPhTs, employers, educators and the public through media outreach, news articles, and communications to expand knowledge of the PTCB Program and the essential roles CPhTs play in advancing patient safety.
disseminated more than 60 updates on program activity and other news through the CPhT Connection, newsletters, and e-communications.
launched new PTCB material online that highlights the benefits of PTCB sponsorship and the value of PTCB Certification.
Social Media
PTCB continued to grow our community on social media. At the end of 2016, PTCB had more than 119,000 connections across our various social media platforms. Facebook remained the most popular social media platform reaching an average of 346,000 users each month. In the first full year of our Instagram account, PTCB featured behind-the-scenes snapshots from headquarters as well as photos from pharmacy technicians across the nation. On National Pharmacy Technician Day (#RxTechDay), PTCB received photo submissions from technicians located in 35 states and nine countries.
Follow PTCB: