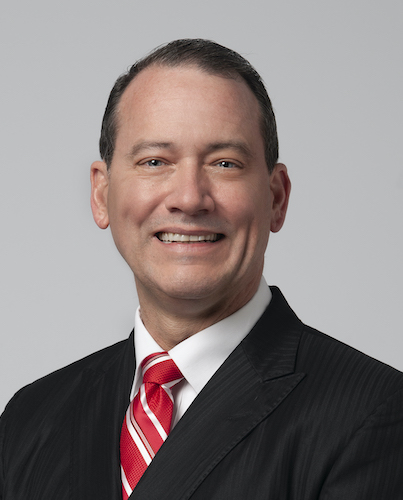 Scott Knoer, MS, PharmD, FASHP
Chair
Scott Knoer is the 13th Executive Vice President and Chief Executive Officer of the American Pharmacists Association. Previously he was the Chief Pharmacy Officer at the Cleveland Clinic from 2011 to 2020 where he led an international pharmacy enterprise with a $1.4 billion dollar drug budget and 1,558 FTEs in 18 hospitals with facilities in Ohio, Florida, and Nevada; Toronto, Ontario, Canada; London, England; and Abu Dhabi, UAE.
Knoer received his BA in psychology from Creighton University, his PharmD from the University of Nebraska, and completed a two-year residency with a concurrent MS degree in hospital pharmacy from the University of Kansas. After pharmacy school, Knoer worked at the University of Texas Medical Branch at Galveston as an Operations Manager for 3 years before moving to Minnesota where he was the Director of Pharmacy at the University of Minnesota Medical Center, Fairview for a decade before joining the Cleveland Clinic.
Knoer serves as Contributing Editor for Pharmacy Practice Management for the American Journal of Health-System Pharmacists where he created and coordinates the CPO Perspectives column. He is a Past Chair of the ASHP Section of Pharmacy Practice Managers and also chaired the Vizient Pharmacy Council (formerly the University Health‐System Consortium).
Knoer successfully lobbied Boards of Pharmacy in Ohio and Minnesota to allow the advancement of pharmacy practice and he led initiatives that changed Ohio and federal law related to the elevation of pharmacy practice and reducing the impact of drug shortages. Knoer has published widely and is a frequent lecturer in the US, Canada, United Arab Emirates, Saudi Arabia, Italy, China, and Japan.
He received the ASHP Board of Director's Award of Excellence in 2017, and the ASHP SPPM Advocacy Award in 2016, for his advocacy related to egregious drug price increases. He was awarded the SPPM Distinguished Service Award in 2015, the John W. Webb Lecture Award for excellence in pharmacy management in 2019, the Harold N. Godwin Legacy Leadership Award from the University of Kansas School of Pharmacy in 2016, the Hugh F. Kabat Award from the Minnesota Society of Health-System Pharmacists in 2009, and the Evlyn Gray Scott Award from the Cleveland Society of Health-System Pharmacists in 2017