Community Engagement and Recognition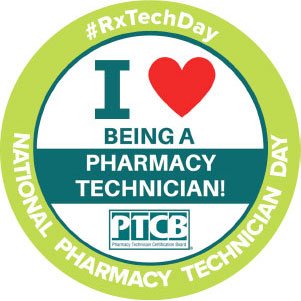 Pharmacy Technician Day
The pharmacy community celebrated Pharmacy Technician Day on Tuesday, October 17. This day is a special time to acknowledge the importance of pharmacy technicians on the pharmacy team. Each year PTCB encourages employers, educators, boards of pharmacy, pharmacy associations, and pharmacy technicians to take time to celebrate. The 2017 theme, Raising the Bar to Ensure Patient Safety, spoke to advancing medication safety at this time when the roles of both pharmacists and pharmacy technicians are evolving. PTCB staff created a video thanking CPhTs for all the work they do for patients. Hundreds of technicians submitted their pharmacy team photos to PTCB to share on social media. They downloaded and shared graphics, and printed and wore PTCB-created badges. PTCB worked with pharmacy organizations to offer a selection of discounts for technicians, including 20% off at the PTCB Store. View #RxTechDay on social media.

PTCB's Certification Exams, including the PTCE and CSPT Exam, are developed through guidance and input from the pharmacy profession.
PTCB CPhT OF THE YEAR - CPhTs Making a Difference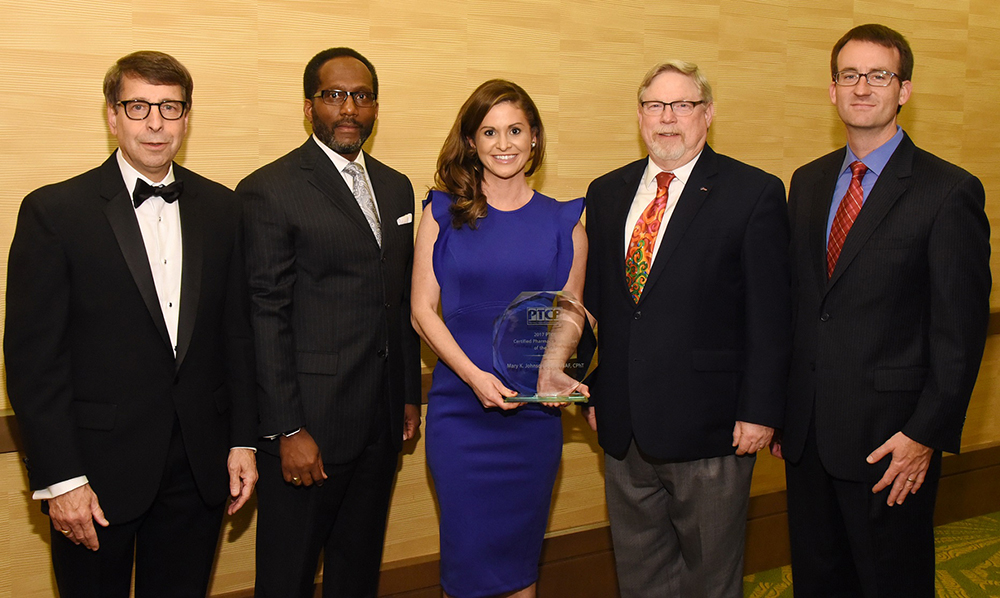 In October, PTCB named Staff Sergeant Mary Johnson the 2017 PTCB Certified Pharmacy Technician (CPhT) of the Year©. SSgt Johnson is the Non-Commissioned Officer in Charge of Pharmacy Services at Geilenkirchen NATO Air Base in Germany, the largest technician-led pharmacy in the US Air Force serving 2,800 military members and dependents.
Four expert panels discussed the technician workforce, optimal requirements for entry-level technicians, opportunities in advanced technician practice, existing state-to-state inconsistencies in technician regulations, and successful models of standardization, including those in place in Canada and North Dakota.
PTCB honored her on December 5 at a reception during the American Society of Health-System Pharmacists (ASHP) Midyear Clinical Meeting in Orlando, FL. SSgt Johnson launched a major policy initiative to implement new standardized opioid prescription guidelines in Air Force pharmacies in Europe. Her initiative is bringing new guidelines to European providers consistent with opioid prescribing limitations being implemented in the US, such as stricter dosing and limited day supplies.
One of the unique challenges Mary faces is filling prescriptions from providers in Germany, the Netherlands, and Belgium. She standardized the prescription requirements for 55 international providers. This ensures 14,000 prescriptions annually are correctly filled and accurately translated. She undertook an initiative to eliminate double-range narcotic prescriptions, a best practice in the continental US.

"My passion for addressing the opioid crisis comes from witnessing first-hand, through someone close to me, how opioid prescriptions can negatively affect someone's personal and professional life. My ultimate goal is to take a proactive approach to treat pain throughout Europe without excessive quantities of opioids before an epidemic harms the military health care system. As a PTCB CPhT, facing international prescription practices across three countries while upholding US prescription standards has posed my greatest challenge. Verifying prescriptions written by non-US providers abroad at a DoD pharmacy presents many challenges. Effectively communicating US standards ensures our pharmacy provides safe and appropriate care overseas."
Mary Johnson, CPhT
2017 PTCB CPhT of the Year
---
READ MORE About Mary Johnson, Cpht
---
The PTCB CPhT of the Year Program honors and recognizes individual achievement in patient care, leadership, service, and mentorship as a way to encourage and support excellence and innovation among all pharmacy technicians. Hundreds of CPhTs were nominated for the 2017 CPhT of the Year from across pharmacy settings. Finalists included CPhTs Adam King, Amanda Kuzma, Glen Gard, Leslie Jackson, Nicole Bernabe, and MSgt Robert George.